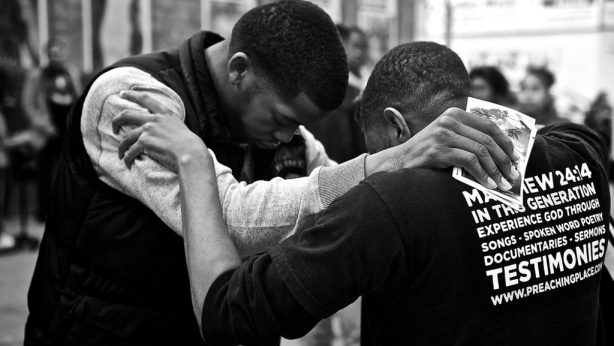 1. Each church meets in a home.
2. Each church is led by one or two leaders or elders.
3. Each church is focused on growing inwardly and extending outwardly by focusing on the mission of Jesus.
Meeting in a home forces the size of the meeting to be small which means that the members can actually get to know everyone in the church, and by the Holy Spirit, these members can become a genuine family. But as we have all experienced, family can be difficult, but if we really are going to exhibit Christ-like love that is empowered by the Holy Spirit, we can't shy away from people who are different from us. We want to not only invite these different types of people in our church meetings and into our homes; we want to invite them into the body of Christ, a genuine family, with all the ups and downs that come along with that.
In addition, meeting in homes also means that we meet within the neighbourhoods of some of the church members or leaders. And when we do outreach, we are reaching out to the people in our very own neighbourhoods. Lastly, the truth is that we can only spend a limited amount of time with the many people we know and love and when it comes to our church family, this only gets more difficult as the size of the body gets larger and when people live farther away.
MULTIPLYING
With all of that being said, we can't just focus on being a genuine family without being a Christ-centered family. Although, there has been amazing growth in our house church, we don't want to forget that we've been placed on this earth to proclaim the name of Jesus and share what He has done through the Cross. Thus, keeping a Kingdom mindset, once a church grows to a sufficient size and new leaders are equipped, it multiplies (or "splits") into two churches.
GATHERINGS
We focus on the following when we meet together:
Spirit-led meetings
Bible teaching, sharing, and discussion
Prayer
Fellowship
Communion
For some of us, our understanding of church leadership has been skewed by our past experiences. For some, we have either had issues (unresolved or resolved) with church leadership in the past, experienced disappointment by past church leaders or we have failed to fully understand what true, biblical church leadership looks like.
For many of us, we have thought in the past that the "pastor" is the one who is paid by the congregants and thus is mainly responsible for things like feeding the flock and discipleship. Also, for some of us, we've grown up in church cultures where we have falsely understood elders to be temporary church board members who control pastors, take care of financial/administrative tasks, and hold a position of status. While none of these are true or biblical, it is important that we take time to understand what true, biblical church leadership looks like.
Church leadership/eldership is necessary and more importantly biblical (Acts 14:23, Acts 20:28, Acts 21:18, Acts 15:22-29). It is our goal as a church to have Godly, biblically qualified elders who will provide humble service, care, direction, vision, teaching, and leadership in the church. It is also our goal to be raising up new church leaders who will lead and serve the church humbly and faithfully according to the characteristics and qualities outlined in Scripture (1 Tim. 3:1-7, Titus 1:6-9, 1 Peter 5:1-4, James 3:1).
Current Leadership
Elders - Kristian, Trevor , Glenroy, Michael
Leaders - Al, Gabe, Jeff
Deacons - Gail